This week's best investing news:
Howard Marks Memo: Fewer Losers, or More Winners? (Howard Marks)
Bill Ackman On Activist Investing, The Economy, And Learning From Mistakes (Julia La Roche)
Grantham warns on global property, AI hype (AFR)
An Update on the Stock-Bond Correlation (Verdad)
Aswath Damodaran: A Business Upended – Streaming and the Future of The Entertainment Business (Musings)
Guy Spier Talks Investing In Our Current Economic Climate (YIP)
Warren Buffett's 1969 Annual Letter — Yes, It Actually Exists (Kingswell)
Investor Ron Baron on trusting Elon Musk after making big bets on Tesla and SpaceX (CNBC)
Is Growing Inequality Nearing The Breaking Point? (Felder)
A conversation with Renaissance Technologies CEO Peter Brown (GS)
Jeffrey Gundlach on Fox Business with Charles Payne 9-7-23 (Fox)
Jim Chanos says China 'poses grave financial and geopolitical threats' (Morningstar)
Beer to Taxes (Humble Dollar)
Jamie Dimon says it's a 'huge mistake' to think economy will boom with so many risks out there (CNBC)
Future Proof 2023: That's a Wrap! (Barry Ritholz)
A Few Things I'm Pretty Sure About (Collab Fund)
Warren Buffett's intrinsic value mantra might lead you to boring companies but predictable cash flows (FP)
Is government debt default coming? We talked to Jim Rogers (Hedder)
Memo to Investors: Beware of the 'Comfort Zone' (Empire Financial)
The Power of Investment Journals (Rational Walk)
Least Bad (Scott Galloway)
How Dollar Stores Quietly Consumed America (Wendover)
An Important Shift in Fed Officials' Rate Stance Is Under Way (WSJ)
Robert Olstein's Olstein Funds 2023 Annual Letter (Olstein)
First Eagle Investments: Summertime Observations (FEIM)
---
This week's best value Investing news: 
Value Sneaks Past Growth (Forbes)
TIP557: Mastermind Q2 2023 w/ Tobias Carlisle and Hari Ramachandra (TIP)
Effective techniques to make value investing work for you (AsiaOne)
---
This week's Fear & Greed Index:
---
This week's best investing podcasts:
Episode #499: Kevin Carter, EMQQ Global – India is Happening NOW (Meb Faber)
WTT: The Real Yale Model (Capital Allocators)
Short Squeezes & GameStop: Two Years On (Equity Mates)
On Background: The Case Against Sam Bankman-Fried (Against The Rules)
How You Can Be a Great Investor – Conversations with Vitaliy – Ep 4 (Intellectual Investor)
Show Us Your Portfolio: Andy Constan (Validea)
#395 – Walter Isaacson: Elon Musk, Steve Jobs, Einstein, Da Vinci & Ben Franklin (Lex Fridman)
Dean Curnutt – The Reflexivity of Equity Volatility (S6E16) (FWM)
Ep 403. Investing the Peter Lynch Way (FC)
435- We Don't Pick Stocks (InvestED)
---
This week's Buffett Indicator:
Overvalued.
---
This week's best investing research:
Trend Following and Momentum Turning Points (AlphaArchitect)
Here's Why Gas Prices Are Heading Higher (ASC)
Fidelity's Joel Tillinghast simple message – use checklists (DSGMV)
Rethinking Corporate FX Hedging: Seeing the Forest through the Trees (CFA)
Why We May Be Only in the Early Stages of a Banking Crisis (AllAboutAlpha)
---
This week's best investing tweet:
US Small Caps have recently hit a 22-year low compared to large caps. 📉

Investment cycles often extend far beyond what's easily grasped by investors. 🔄

While, in hindsight, 2010 might not have been an ideal time to invest in Small Caps, looking ahead over the next 15-20… pic.twitter.com/2TGOx00xSH

— Alexander Vogt, CFA (@VogtAlexander_) September 13, 2023
---
This week's best investing graphic:
Visualizing Google's Search Engine Market Share (Visual Capitalist)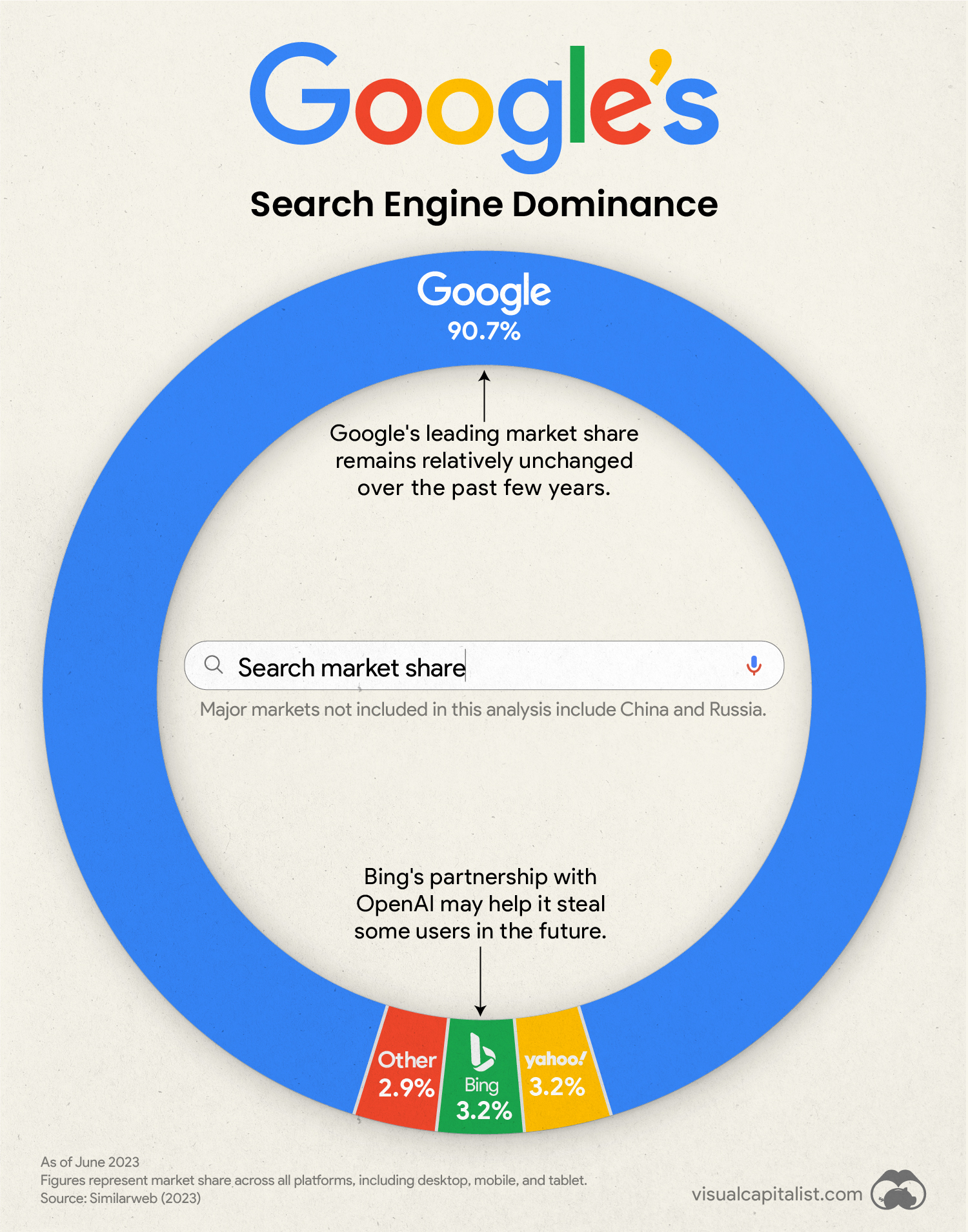 For all the latest news and podcasts, join our free newsletter here.
Don't forget to check out our FREE Large Cap 1000 – Stock Screener, here at The Acquirer's Multiple: