This week's best investing news:
Ray Dalio – What's Happening with the Economy? The Great Wealth Transfer (LinkedIn)
Japan in Demand (Sort Of) (Verdad)
Warren Buffett says he's not worried about Fitch's U.S. downgrade (CNBC)
What Kobe Bryant's Mantra of "Never Get Bored with The Basics" Can Teach Investors (Validea)
Mario Gabelli: We want to buy good companies with good management & valuations (CNBC)
Rob Arnott Uncovered: Investing Insights in the Inflation Age (Lead-Lag)
Transcript: Liz Hoffman (Barry Ritholz)
Jamie Dimon: I'm more worried about China and cyber than bank stress tests (CNBC)
Investors Go 'All In' On The Soft Landing Narrative (Felder)
The Art of Making Good Decisions (Safal)
Greenlight's David Einhorn hit home runs short selling and buying companies making big buybacks (CNBC)
Own Worst Enemy (Humble Dollar)
Jeremy Siegel – Equity markets are headed to new highs (CNBC)
The Economic Perception Model (Ep Theory)
Rob Arnott – Inflation: Don't Pop the Champagne (Yet) (RA)
The Risk-Reduction Strategy Most Investors Refuse to Learn (Empire)
Can you beat the averages? At least Warren Buffett can (Kiplinger)
How to Read: Lots of Inputs and a Strong Filter (Collab Fund)
US stocks notch longest monthly winning streak in two years (FT)
The End of an Experiment (Net Interest)
7 Things I Don't Own in My Portfolio (Morningstar)
Bear market investors think different (Klement)
David Katz: Expect a pullback that doesn't necessarily lead to a bear market (CNBC)
2Q23 Market Overview: OK Computer (FEIM)
The (In)Accuracy of Market Forecasts (Wealth Management)
Third Point Q2 2023 Investor Letter (TP)
Royce Investment Partners Commentary: What Is the Outlook for the Second Half of 2023? (Royce)
Mairs & Power Growth Fund Q2 2023 Commentary (M&P)
FPA Queens Road Small Cap Value Fund Q2 2023 Commentary (FPA)
---
This week's best value Investing news:
The Evolution of Value Investing w/ Brian Feroldi (TIP)
How to do value investing to generate superior returns (The Times of India)
How Value Investors can use the Power of Compounding (Yahoo)
---
This week's Fear & Greed Index:
---
This week's best investing podcasts:
Ted Seides – The Art of the Interview (EP.330) (Capital Allocators)
Samo Burja – The Great Founder Theory of History (ILTB)
Banks, Entertainment, Smallcap Value (Planet MicroCap)
429- FROM THE VAULT: Bill Ackman's Investing Checklist Part 2 (InvestED)
Ep 398. The Financial History of General Motors (Focused Compounding)
Growth Investing: Riding the A.I. Boom (WealthTrack)
Vanguard's Hard Pass on a `Soft Landing' (What Goes Up)
EP 111: How to Determine Your Investment Risk Tolerance (Peter Lazaroff)
Jack Butcher — Reality is the Boss (Infinite Loops)
The Evolution of Value Investing w/ Brian Feroldi (TIP)
---
This week's Buffett Indicator:
Overvalued.
---
This week's best investing research:
Conditioning anomalies using retail attention metrics (AlphaArchitect)
Will Rising Rates Lead to a Stock Market Bloodbath? (ASC)
Strategies Fail When Market Regimes Change (PAL)
What Happened to Equity Volatility in 2022? (AllAboutAlpha)
---
This week's best investing tweet:
I don't even try to time the market.

But if you can magically do it, it can be lucrative: pic.twitter.com/Qz6dDGHwzT

— Brian Feroldi (🧠,📈) (@BrianFeroldi) August 2, 2023
---
This week's best investing graphic:
Ranked: The U.S. Cities with the Most Vacant Offices (Visual Capitalist)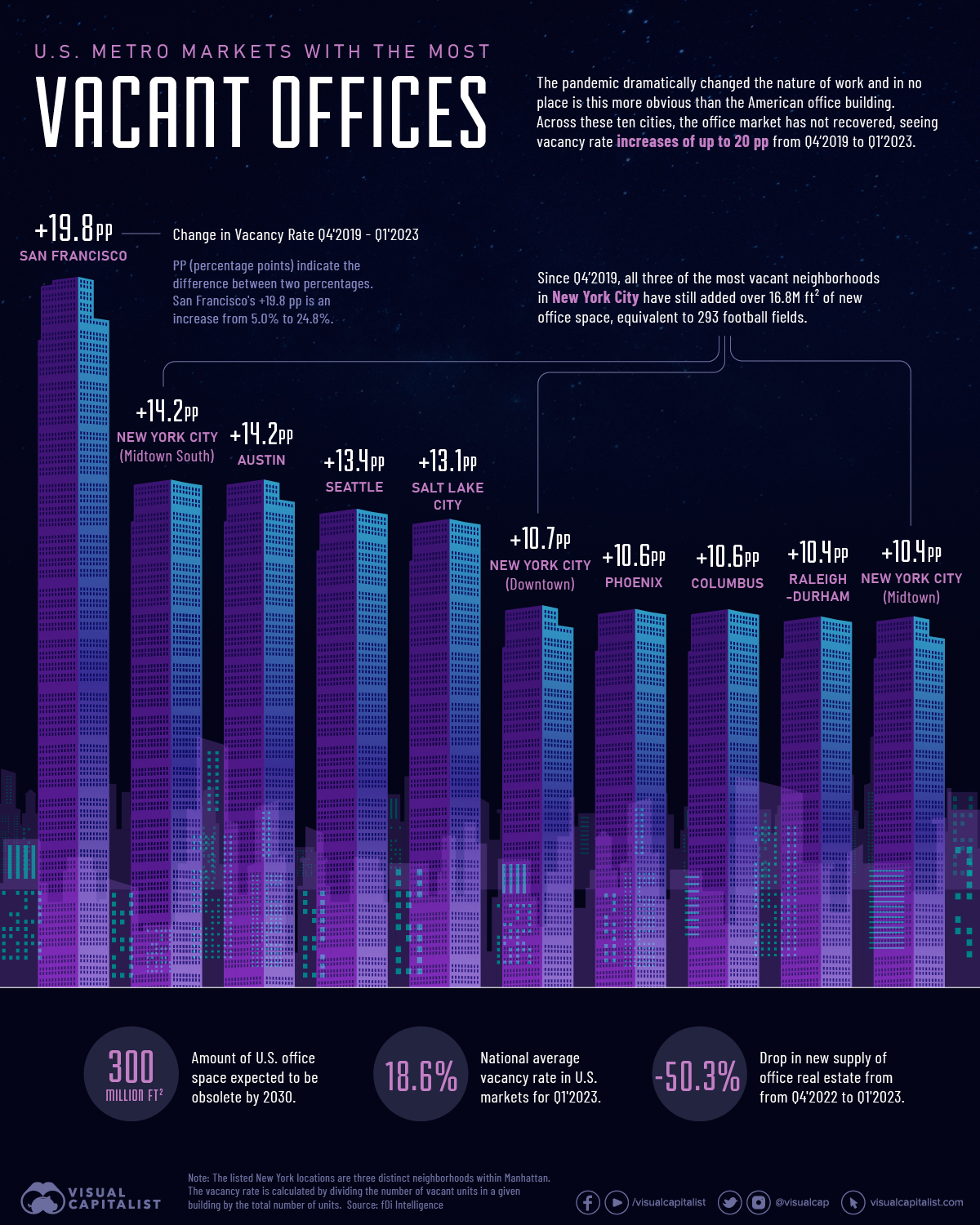 For all the latest news and podcasts, join our free newsletter here.
Don't forget to check out our FREE Large Cap 1000 – Stock Screener, here at The Acquirer's Multiple: