This week's best investing news:
Howard Marks: Mastering The Market Cycle (TIP)
Charlie Munger is skeptical of AI: 'Old-fashioned intelligence works pretty well' (CNBC)
Cliff Asness – Quant Firm AQR Spots Deal of the Century in Emerging Markets (Bloomberg)
The Roundup: Top Takeaways from Oaktree's Quarterly Letters – June 2023 Edition (OakTree)
Berkshire Hathaway increases its passive stakes in each of five leading Japanese trading companies (BH)
Industry Volatility (Verdad)
 Aswath Damodaran – Nvidia needs to dominate the A.I. market to justify its price point (CNBC)
Why You Believe The Things You Do (Collab Fund)
Citadel's Ken Griffin optimistic on growth in China (FT)
GMO Commentary: Weighing the Risk of Sanctions in Emerging Debt (GMO)
Ron Baron: Growth will accelerate above 7% over the next 50 years (CNBC)
A world with no [derivative] losses. (Rudy Havenstein)
Warren Buffett's charitable giving exceeds $50 billion, more than his entire net worth in 2006  (CNBC)
Berkshire Hathaway's First-Half Winners: Apple and Japan's Sogo Shosha (Kingswell)
Chris Davis: The Types of Businesses That Can Build Generational Wealth (Davis)
Derivative Hoops (Ep Theory)
Jeremy Grantham: Calling A Super Bubble (TIP)
Nassim Taleb on crypto: A cult coupled with a financial instrument (CNBC)
Coming Together (Humble Dollar)
Jeffrey Gundlach – Fed decision hasn't changed our game plan of bond-heavy barbell portfolio (CNBC)
Transcript: Gretchen Morgenson (Big Picture)
Why India will replace China as the world's growth engine this decade (Forbes)
The Wisdom of K (Chris Mayer)
Ruane, Cunniff & Goldfarb Investor Day Transcript (RCG)
Weitz Investment Management 2023 Annual Shareholder Meeting (Weitz)
Polen Capital Management: Hidden in Plain Sight – Our Quest for Quality Around the World (Polen)
---
This week's best value investing news:
The next frontier in value investing in credits: integrating machine learning (Robeco)
How Constraints Drive Success in Value Investing (Stansberry)
What happens to value investing if there's a recession? (MarketWatch)
---
This week's Fear & Greed Index:
---
This week's best investing podcasts:
Expert: Hamilton Reiner – Investing for Income | J.P. Morgan Asset Management (Equity Mates)
Show Us Your Portfolio: Larry Swedroe (Excess Returns)
Roberto Croce – Trend and Carry Within Assets, Across Assets, and Over Time (S6E8) (FWM)
Patrick Doyle, Executive Chairman of RBI on: increasing Domino's share price by 23x (Boyar)
Ep 395. Analyzing 10-Baggers from the Past 10 Years, Industry Returns, and Snap Judgments from Twitter (FC)
Justin Mares – The US Health Crisis (ILTB)
EP 105: How Will AI Impact Your Portfolio? (Peter Lazaroff)
---
This week's Buffett Indicator:
Overvalued.
---
This week's best investing research:
Improving Performance by Avoiding Negatives of Index Replication (AlphaArchitect)
Commodities Are Alive and Well (ASC)
A Slow Recovery For the 60-40 Portfolio (PAL)
Diversification Versus Hedging: Which One Should Investors Pursue? (AllAboutAlpha)
---
This week's best investing tweet:
End May EBIT/EV value spread in one basis point to 4.38.

Basically unchanged from last month and fourth widest reading in the data.

When it widens, value underperforms. When it narrows, value outperforms. pic.twitter.com/CWYWZMUYxx

— Tobias Carlisle (@Greenbackd) June 20, 2023
---
This week's best investing graphic:
Visualizing Every Company on the S&P 500 Index (Visual Capitalist)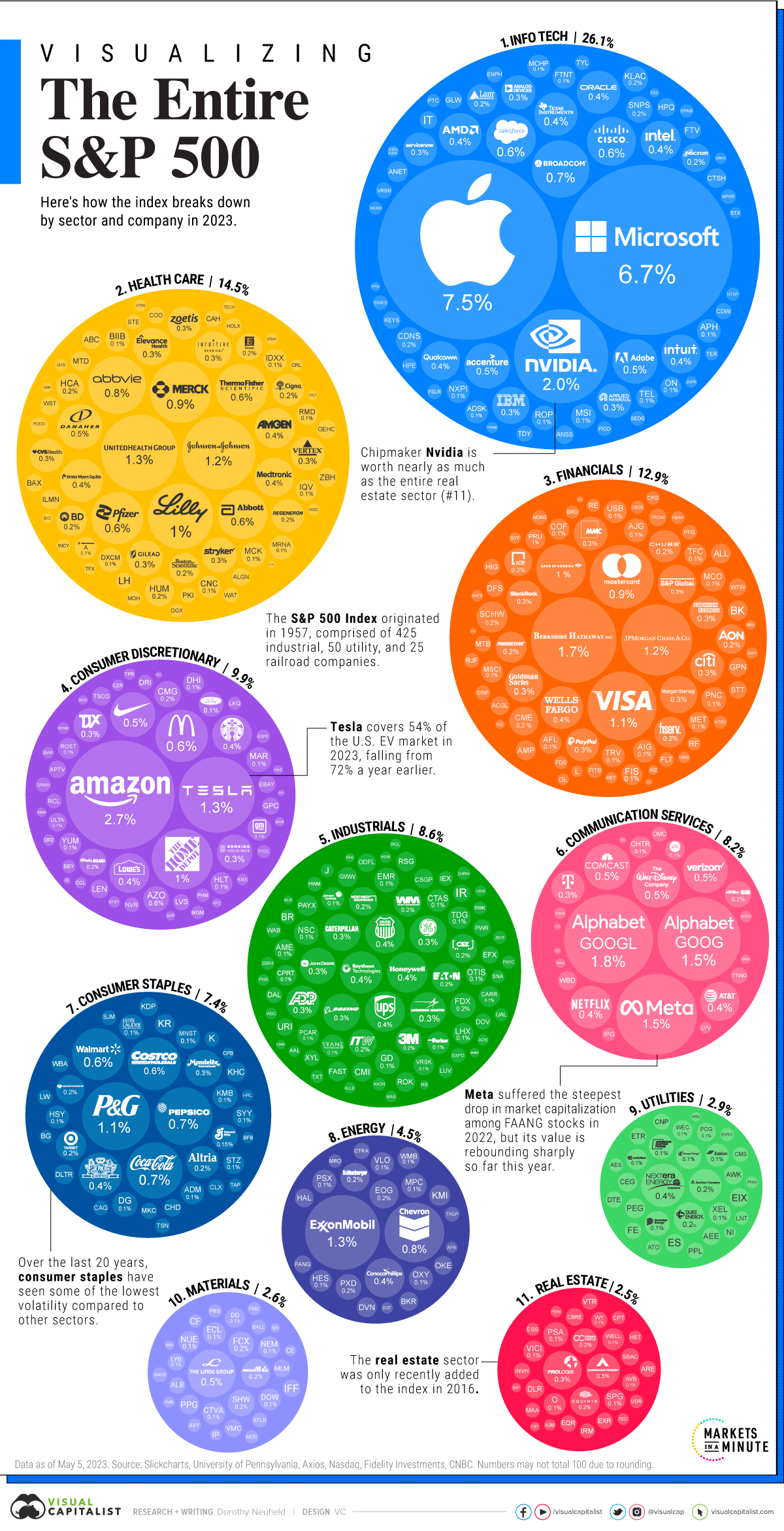 For all the latest news and podcasts, join our free newsletter here.
Don't forget to check out our FREE Large Cap 1000 – Stock Screener, here at The Acquirer's Multiple: