This week's best investing news:
Jeremy Grantham – After A Timeout, Back To The Meat Grinder! (GMO)
Ray Dalio – The Farce and Consequences of the Debt Limit and the Debt (Dalio)
Dot-Com Redux (Verdad)
How to Get New Ideas (Paul Graham)
Taking Stock – In conversation with Howard Marks (BNN Bloomberg)
How Do Active Managers Invest Their Own Money? (Barry Ritholz)
Stock Market Roller Coaster: Prepare for a Decade or Two of Disappointing Returns! (Vitaliy)
Aswath Damodaran: Dealing with uncertainty in valuation (SKAGEN)
Netflix's New Chapter (Stratechery)
Bill Ackman takes stake in Bremont after buying its watches (FT)
Trading High (HumbleDollar)
Fisher – Stocks usually recover before earnings do (Fisher)
Will Berkshire Hathaway Survive — and Thrive — After Warren Buffett is Gone? (Kingswell)
Citadel Made $16 Billion in Profit, the 'Largest Ever by a Hedge Fund' (Barron's)
Something's Gotta Give (Felder)
John Hussman – Pushing Your Luck (Hussman)
Nick Train: Fever-Tree was my 'biggest embarrassment' in 2022 (Investment Week)
Transcript: Steven Klinsky (Big Picture)
Why the (improved) 60/40 portfolio is back in vogue (AFR)
Chris Wood – The Best Time in Many Years to Buy Asian And Emerging Market Equities (The Market)
How Apple Has So Far Avoided Layoffs: Lean Hiring, No Free Lunches (WSJ)
Why Rob Arnott Is Betting on Factor Investing (Bloomberg)
Union Pacific CEO breaks down fourth-quarter earnings and railroad outlook (CNBC)
Vanguard's guide to financial wellness (Vanguard)
Elliott Management Takes Big Stake in Salesforce (WSJ)
The Ultimate Contrarian Indicator to Start the Year (WSJ)
Third Avenue – Small Cap Value (Third Avenue)
Miller Value – Opportunity Equity 4Q2022 Commentary (Miller)
What to Do When Others are Fearful Q4 2022 (Weitz)
Sequoia Strategy – Q4 2022 – Portfolio Review (Sequoia)
Longleaf Q4 2022 Letter (Longleaf)
---
This week's best value Investing news:
Royce Investment Partners – Small-Cap Opportunistic Value Strategy—4Q22 Update and Outlook (Royce)
Value investing can be sustainable but it requires 'hard' exclusions (FT)
Value Investing Checklist & Philosophy | Warren Buffett Investment Strategy (TIP)
---
This week's Fear & Greed Index:
---
This week's best investing podcasts:
TIP517: Mohnish Pabrai's Dhandho Investment Framework (TIP)
Episode #463: J.P. Morgan's Dr. David Kelly on Why He Believes Foreign Stocks Are Attractive (MF)
#157 Carolyn Coughlin: Become A Better Listener (KP)
Inside the Madoff Scandal with Madoff Trader and Investor Andrew Cohen (Excess Returns)
Daryl Morey – Systems Thinking in Sports (ILTB)
Dede Eyesan: How To Find Stocks That Return 10x in 10 Years (VH)
Will Thomson – Real Assets Are Like Hansel (So Hot Right Now) (TBB)
A data-driven approach to picking growth stocks and thematic baskets (FWM)
Ep 381. Disney and Nelson Peltz, Carvana's Fall (FC)
EP 84: CIO Roundtable with Rubin Miller and Phil Huber (PL)
---
This week's Buffett Indicator:
Fairly Valued.
---
This week's best investing research:
Mitigating Risks with Factor Strategies (AA)
Embracing Heuristics (ASC)
Say Goodbye to Strategic Allocations (PAL)
Davos and risk gloom – Nothing good out there (DSGMV)
---
This week's best investing tweet:
---
This week's best investing graphic:
Ranked: The Top 50 Most Visited Websites in the World (Visual Capitalist)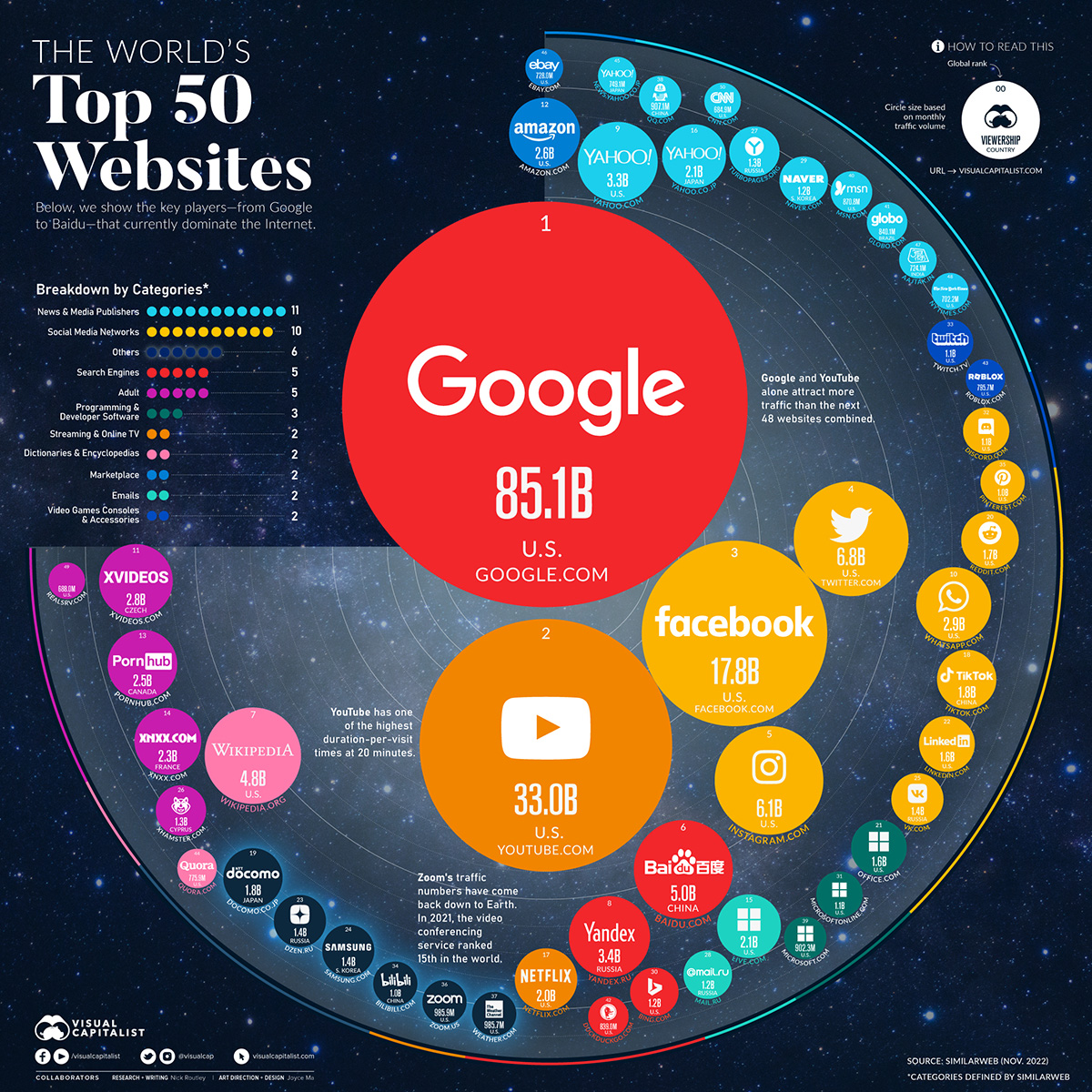 For all the latest news and podcasts, join our free newsletter here.
Don't forget to check out our FREE Large Cap 1000 – Stock Screener, here at The Acquirer's Multiple: