This week's best investing news:
Mohnish Pabrai's Q&A Session with students at William & Mary College (Mohnish Pabrai)
The Need to Read (Paul Graham)
Howard Marks' 10 key elements for investing (AFR)
MegaThreats (Verdad)
Jeremy Grantham on Investing in Green Tech (CWT)
Who Says 'You Can't Time The Market'? (Felder)
Warren Buffett explains his $750 million charitable donation on Thanksgiving eve (CNBC)
Why Berkshire Has Bet Big On A Taiwanese Chip Maker (Validea)
Bridgewater Co-CIOs Discuss the Different Ways the Tightening Might Play Out (Bridgewater)
Some Thoughts on Investing, an Ongoing List. (Borrowed and not) (Collab Fund)
The Myth of the Lost Decade looms over the stock market (Globe & Mail)
Guessing Game (Humble Dollar)
Transcript: Boaz Weinstein (Big Picture)
Bottoming? (Barry Ritholz)
The Worst Bond Market Ever (Morningstar)
Avoiding Recession In 2023 "Almost Impossible" (Wealthion)
The spread of P/E multiples is 40% wider than normal, says Oakmark's Nygren (CNBC)
Berkshire Is Said to Sound Out Investors on Yen Bond Deal (Yahoo)
A recession is inevitable if the Fed maintains restrictive policy, says Wharton's Jeremy Siegel (CNBC)
The Best 50-Year-Old Investing Advice Money Can Buy (NY Times)
An ARKK-typical problem* (Klement)
Hayden Capital Q3 2022 Letter (Hayden)
GMO – Q3 2022 Letter (GMO)
Polen Capital – Focus Growth Mid-Quarter Update Webinar (Polen)
Mairs & Power Quality Growth Fund Q3 2022 Webinar  (Jensen)
---
This week's best value Investing news:
Value Stocks Poised For "Outperformance" Everywhere — GMO Report (Forbes)
The Evolutionary Pressures and Re-emergence of Value Investing (Nasdaq)
Why small-cap stocks could hit it out of the park (AFR)
Looking for Value in 2023? Use Boyar's Forgotten Forty as Your Roadmap (Boyar)
---
This week's Fear & Greed Index:
---
This week's best investing podcasts:
TIP498: Ray Dalio's Book – Big Debt Crises & How the Economic Machine Works (TIP)
Big Money w/ Fidelity Superstar Joel Tillinghast (RWH)
Episode #456: Marc Cohodes on SBF, Fraud, & The FTX Death Spiral (Meb Faber)
Cullen Roche – Why Macro Matters (Business Brew)
#153 Keith Creel: Lessons from Life on the Railroad (Knowledge Project)
Annie Duke on the Power of Quitting (EconTalk)
Ron Howard and Brian Grazer – Box Office Business (Invest Like The Best)
Leveraging Your Stock Watchlist and Defining a Decent Business (Planet MicroCap)
The Amount of Time You've Got… (WealthTrack)
---
This week's Buffett Indicator:
Fairly Valued.
---
This week's best investing research:
DIY Trend-Following Allocations: December 2022 (AlphaArchitect)
The Most Important Crypto Chart (AllStarCharts)
Will They, or Won't They? The Risk of Betting on the Fed (CFA)
Stagflation and debt traps (DSGMV)
Should EM Debt Investors Fear Fed Hikes? (AllAboutAlpha)
Trend-Following: Classical vs. Quant Traders (PAL)
---
This week's best investing tweet:
---
This week's best investing graphic:
Ranked: The World's Richest Billionaires Over the Past 10 Years (Visual Capitalist)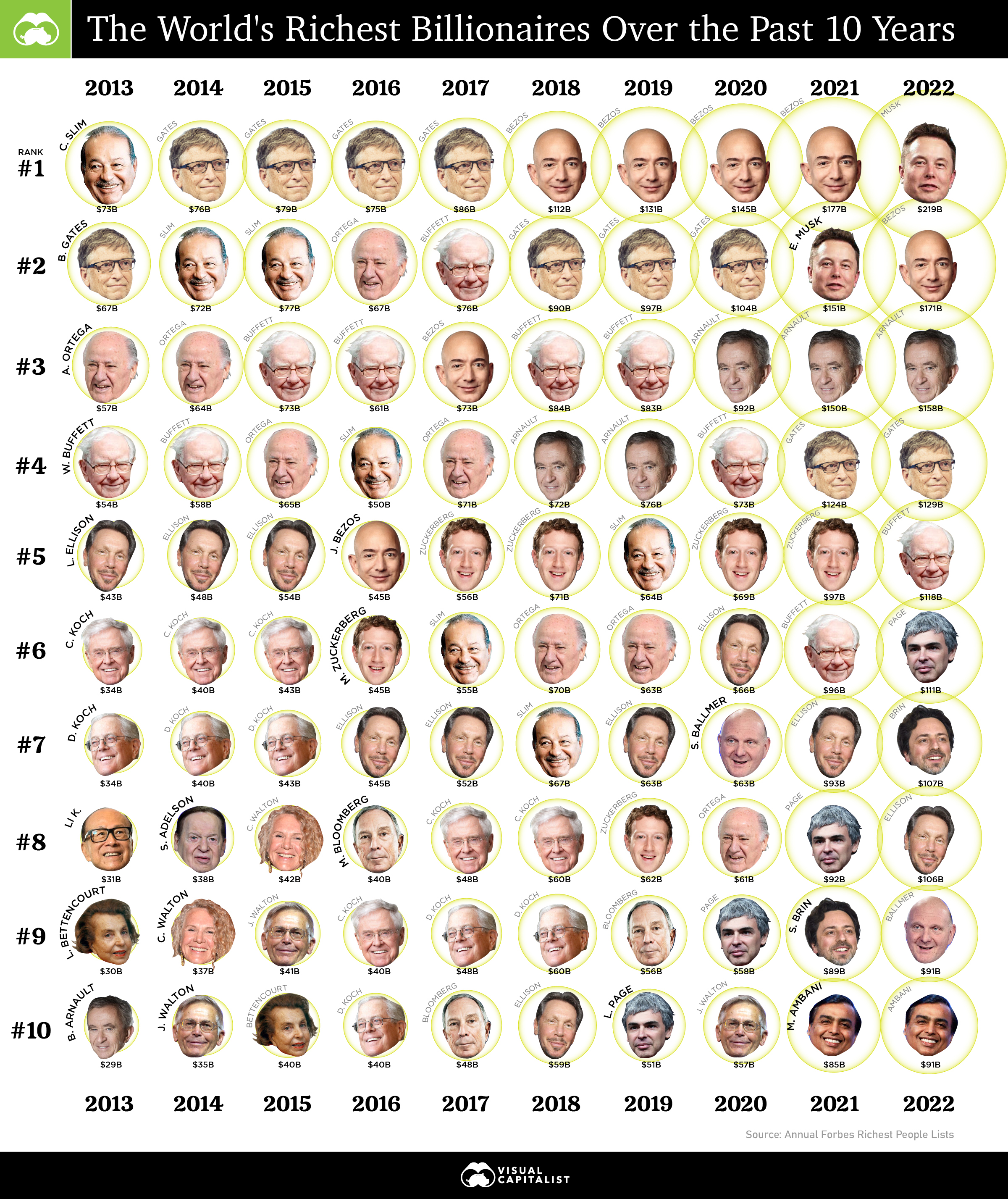 For all the latest news and podcasts, join our free newsletter here.
Don't forget to check out our FREE Large Cap 1000 – Stock Screener, here at The Acquirer's Multiple: