Here's a list of this week's best investing reads:
Elections and Markets (Jamie Catherwood)
This Time Was Different (Irrelevant Investor)
Activist Investor Dan Loeb on Why Disney Needs to Double Its Streaming Spending  (Variety)
COVID & Global Valuations (Verdad)
Tobias Carlisle – How To Play On Market's Reversion To The Mean (Economic Times)
Howard Marks Memo – Coming Into Focus (Oaktree)
Don't Mix Your Politics With Your Portfolio (A Wealth of Common Sense)
Disney and Integrators Versus Aggregators (Stratechery)
Time in the market beats timing the market (DGI)
Why Read? Advice From Harold Bloom (Farnam Street)
Is Passive Investing Distorting the Market? (Validea)
Margin of Safety Still Matters (VSG)
Has Gold Gotten Too Expensive? (Felder Report)
We Destroyed the World's Greatest Economy for No Reason (Daily Reckoning)
Q3 Earnings Season Could Be A Good One (UPFINA)
What good investing and winemaking have in common (EB Investor)
Tulips to Tesla (Scott Galloway)
The Best Investing Books for Every Kind of Investor (Of Dollars and Data)
Weekly Earnings Calls 10.12.20 (The Transcript)
What the Harvard endowment's below-average grade can teach you about index funds and your investments (MarketWatch)
We Were Wrong (Flirting with Models)
I Have Seen Tomorrow (Safal Niveshak)
Quality Investing by Lawrence Cunningham (Rabbit Hole)
Game Over (Humble Dollar)
Charlie Munger's 10 Rules for Investment Success (DGS)
Curbing the Speculative Urge (Novel Investor)
Sequoia Fund Q3 2020 Investor Letter (Seeking Alpha)
Why Did I Buy That Stock (Larry Swedroe)
Value fund manager AJO to shut down after losses (FT)
Three Things I Think I Think (Prag Cap)
Barry Ritholtz Joins Me On 'Panic With Friends' to Talk Financial Twitter, Bloomberg, His Dream Dinner Guests, and More (Howard Lindzon)
Prisoner's Dilemma and Vedanta Delisting Situation (Fundoo Professor)
A Columnist Makes Sense of Wall Street Like None Other (Whitney Tilson)
From Pillar To Post (Epsilon Theory)
Twenty Years After the Original Tech Bubble: Techno Party 2 (MOI Global)
Investing In The Economy Of The Future – Follow-Up (GMM)
How To 20x Your Money Without Upping Your Risk (Macro Ops)
How Does Margin Work in Trading? (Investment U)
Tale of Two Economies: Housing-Related Boom vs Pandemic-Challenged-Services Bust (Dr Ed)
Tripping Over The Truth (Barel Karsan)
Current State of Affairs for Value, Profits, and Debt (Factor Investor)
Six Reasons to Start Your Own Investment Management Firm and Six Factors to Consider before You Do (CFA Institute)
Breaking Big Tech (Advisor Perspectives)
Thinking about diversification in an uncertain world (DSGMV)
Bill Miller 3Q 2020 Market Letter (Miller Value)
---
This week's best value investing reads:
Buffett's Disciples Should Pray for a Bond Bust (Bloomberg)
There's More to Value Investing Than Low Prices (Morningstar)
Value Investing Is Not Dead: An Eaton Vance Case Study (Seeking Alpha)
Value Investing Is Not Dead (Money Management)
Will Value Stocks Overtake Growth Shares After The Election? (Investing.com)
---
This week's best investing research reads:
Factor Exposure Analysis 101 (Factor Research)
News and its Impact on Risk and Returns Around the World (Alpha Architect)
SSRN Top 5 Papers 10/04/2020 to 10/11/2020 (SSRN)
Three Sources of Alpha: A Call for Small Manager Investment (All About Alpha)
Venture Funding Trends Intact (AVC)
What volatility do investors experience? (Klement)
---
This week's best investing podcasts:
MiB: Joel Greenblatt on Gotham Relative Value (Barry Ritholz)
Bethany McLean: CEOs, Psychopaths, and a Backwards Wall Street (Zer0esTV)
How to Avoid Value Traps with Brandon Beylo, Host of Value Hive Podcast (Avoiding The Crowd)
Bearish the Whole Way Up (Animal Spirits)
Annie Duke – How to Decide (EP.22) (Infinite Loops)
Episode #255: Matt Peterson, Peterson Capital Management "We're In A Global Pandemic; In A Recession…People Are Scared; That Creates Opportunity" (Meb Faber)
How Tobacco Became One Of The Greatest Investments In History (Odd Lots)
Ep. 143 – The Templeton Way: The Art of Contrarian Investing with Lauren Templeton, Founder and Principal of Templeton & Phillips Capital Management (Planet MicroCap)
Disney wants the Netflix treatment, renting a house, breaking up tech monopolies (The Compound)
Downhill Racing Meets Value Investing – Ep 97 (Intellectual Investing)
Dan Loeb and Disney (Science of Hitting)
#473: Naval Ravikant on Happiness, Reducing Anxiety, Crypto Stablecoins, and Crypto Strategy (Tim Ferriss)
The MVP Machine, and the Growth vs.Value Debate | The Snowflake IPO (This Week in Intelligent Investing)
Jacqueline Novogratz – Investing in Dignity and Character (Invest Like the Best)
TIP318: The Passive Investing Impact w/ Mike Green (TIP)
Interview: A Multi-Disciplinary Approach To Investing & Learning With Nir Kaissar (Ep. 46) (Validea)
Discussing TikTok And Social Media (Intelligent Investing)
Has Everything Changed? with Raoul Pal (Real Vision)
Legendary Fund Shakeup (WealthTrack)
---
This week's best investing graphic:
Visualized: A Breakdown of Amazon's Revenue Model (Visual Capitalist)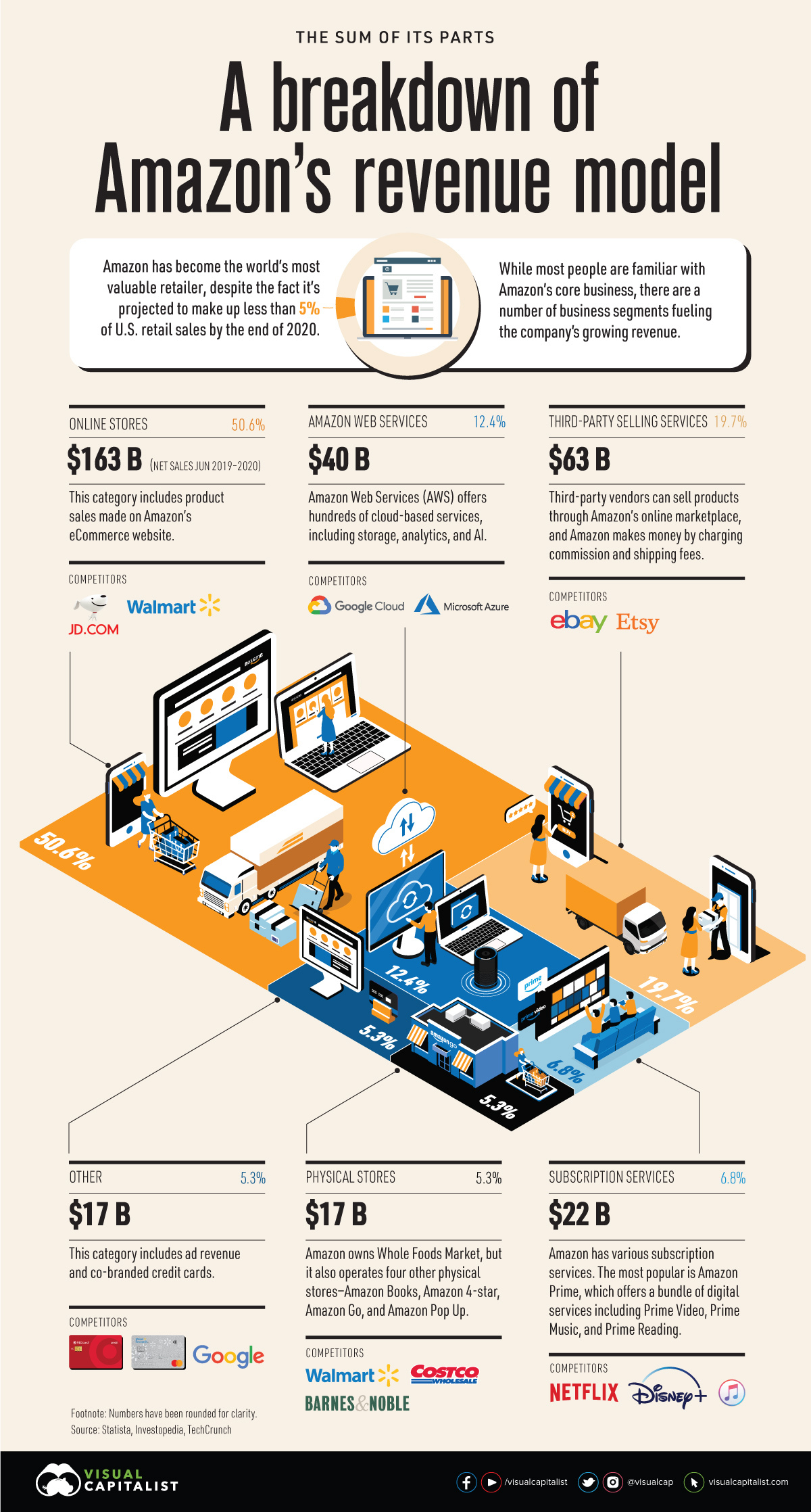 For more articles like this, check out our recent articles here.
Don't forget to check out our FREE Large Cap 1000 – Stock Screener, here at The Acquirer's Multiple: