Here's a list of this week's best investing reads:
The Same Old Boom (Jamie Catherwood)
Berkshire in Techland (The Reformed Broker)
When Technology Takes Revenge (Farnam Street)
Where Are they Going? (The Irrelevant Investor)
There Is No Size Effect: Daily Edition (AQR)
Obvious Things That Are Easy To Ignore (Collaborative Fund)
Buffett's Warning in 2000 Still Relevant (Validea)
No Complacency In Volatility (GMO)
The Work From Home Backlash is Upon Us (A Wealth of Common Sense)
Nvidia's Integration Dreams (Stratechery)
"Makings of a Multibagger" Research Report (Alta Fox)
The Fault, Dear Investor, is Not in Your Investments, But in You (Safal Niveshak)
Quality is Missing the Point (Advisor Perspectives)
Why Buffett Bought Japanese Stocks (Verdad)
Weekly Earnings Calls 09.14.20 (The Transcript)
The Billionaire Who Wanted To Die Broke . . . Is Now Officially Broke (Forbes)
Ray Dalio Warns of Threat to Dollar as Reserve Currency (Bloomberg)
Playing Dumb (Humble Dollar)
What Has and Hasn't Changed in Investing (Novel Investor)
The S&P 500 has never been more top heavy (Star Tribune)
Liquidity Cascades: The Coordinated Risk of Uncoordinated Market Participants (Flirting with Models)
Snowflakes and Bubbles (Compound Advisors)
Human Frailty: 1. Anchoring Bias (Slack Investor)
Not If But When (Scott Galloway)
The 9 Best Income Producing Assets to Grow Your Wealth (Of Dollars & Data)
Are you still playing by the old rules? (EBI)
John Malone on His Business and Capital Allocation Philosophy (Premium) (MOI Global)
8 Books on Worldly Wisdom (Musing Zebra)
Howard Marks: History Can Be a Useful Guide in Today's Market (GuruFocus)
How Amazon Automated Work and Put Its People to Better Use (HBR)
Nikola's History of Discrepancies Has Been in Plain Sight (Whitney Tilson)
Microsoft Hikes Dividends by 10% (DGI)
Sometimes, it's all about expectations (Brinker Capital)
The ESG Performance Paradox (CFA Institute)
---
This week's best value investing reads:
Growth vs Value Investing: Which Is Best For You? (Forbes)
Is value investing dead? (Motley Fool)
Can Value Investing Make a Comeback? (Morningstar)
Opinion: Why you're not getting the premium from value stocks (MarketWatch)
Are You a Growth or Value Investor? (Investment U)
Value Isn't Dead, But No Sector Is Ever 'Due' For a Rally (Real Clear Markets)
---
This week's best investing research reads:
Michael Mauboussin – Expectations and the Role of Intangible Investments (Morgan Stanley)
A Perfect Hedge Exists Only in Hindsight (PAL)
Can We Use the Shiller CAPE Ratio to Forecast Country Returns? (Alpha Architect)
Size, Expertise, and What Really Matters in Fund Selection (All About Alpha)
Charting the COVID Effect on Fintech (Andreessen Horowitz)
Persistent High Volatility (Aleph)
Stocks Vs. Volatility – Standoff Gets Flipped (Dana Lyons)
O, How We Love Technical Analysis (GMM)
Alternative risk premia timing – Success through nowcasting (DSGMV)
CROIC, CFROI, CROCI & CROCS (Factor Research)
---
This week's best investing tweet:
A group of people who think differently is a market.

A group of people who think alike is a mob.

— Naval (@naval) July 31, 2020
---
This week's best investing podcasts:
The End Game Ep. 7 – Edward Chancellor (Grant Williams)
Upside Down Markets (Animal Spirits)
Miners Are a Call on Unintended Fed Policy w/ Bill Fleckenstein & Rick Rule (Real Vision)
Annie Duke – How to Decide (Capital Allocators, EP.156) (Capital Allocators)
#92 Lisa Feldman Barrett: Balancing the Brain Budget (The Knowledge Project)
How SoftBank And Robinhooders Added Fuel To The Stock Market Boom (Odd Lots)
Ep. 70 – Ben Claremon: The Buffett List (Investing City)
Michael Green On Detecting The Greatest Value In Markets Today (Felder Report)
The Options Trading Bubble: What Are Your Thoughts? (The Compound)
Is Direct Indexing the Future of Investing? (Excess Returns)
Value investing and jazz (Grant's)
Sequoia's Ravi Gupta (20VC)
Ron Howard – The Past, Present and Future of Entertainment (EP.19) (Infinite Loops)
Morgan Housel on the Culture of Finance (MIB)
#86: Berkshire Hathaway and the Tech IPO: Has Warren Buffett Given Up on Value Investing? (Absolute Return)
A Professor, Prop Trader, & Risk Manager Walk Into a Bar, with Victor Canto (RCM Alternatives)
Episode #249: Ben Savage, Clocktower Technology Ventures "Financial Services Has Had A Smaller Share Of Venture Capital Dollars Pointed At It…Since The Inception Of The Venture Capital Industry" (Meb Faber)
Ep. 139 – Making Ultra Long Bets on Survivors & Thrivers with Jeremy Deal, Portfolio Manager of JDP Capital Management (Planet MicroCap)
Mini Lecture on Evaluating Operating Skills of Business Managers (Fundoo Professor)
---
This week's best investing graphic:
Here's What Happens Every Minute on the Internet in 2020 (Visual Capitalist)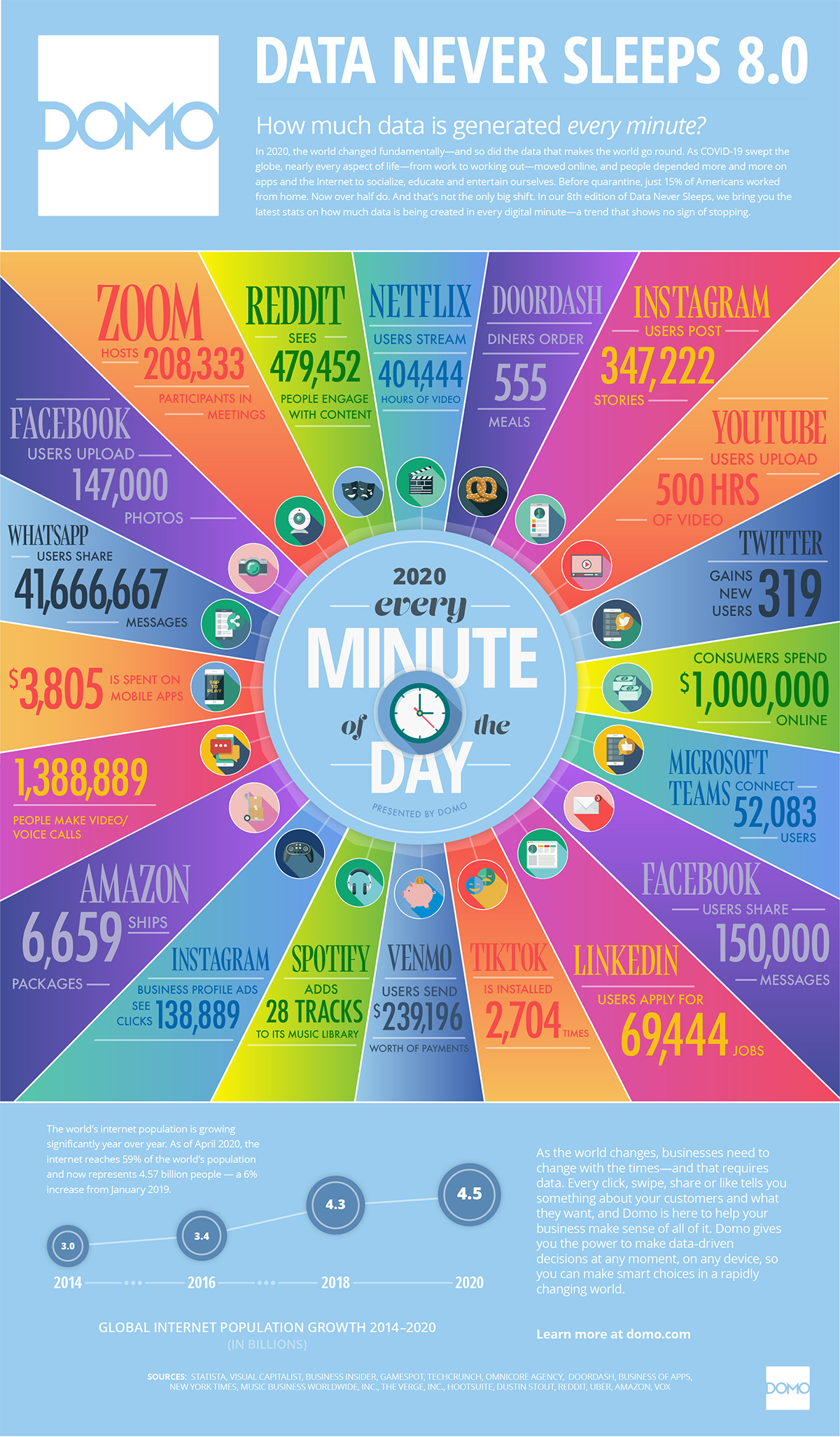 For all the latest news and podcasts, join our free newsletter here.
Don't forget to check out our FREE Large Cap 1000 – Stock Screener, here at The Acquirer's Multiple: