This week's best investing news:
Billionaire Charlie Munger's Timely Apartment Bet Began With Hebrew Bible (Bloomberg)
Panic Selling More Likely Among Older Men (Validea)
The Efficacy & Cost of Hedging with Options (Verdad)
Panic Series (Pt. IV) – 1837 (Jamie Catherwood)
Investing In Health Data (Collaborative Fund)
The Unbearable Lightness of Corporate Margins (Epsilon Theory)
Growing Cheap (Humble Dollar)
The Milken Way (Neckar)
Sensex at 60,000: Timeless Lessons to Help You Stay Grounded (Safal Niveshak)
The Zoom Climb Glide Path & Why the Age in Bonds Rule is Wrong (PragCap)
High-Performance Habits (Medium)
5 Lessons Evergrande Taught Us About The Chinese Economy (NPR)
Are You Thinking About Short Selling? Think Again (Bloomberg)
What is Your Investment Edge? (Behavioural Investment)
A Labor Movement for the Platform Economy (Li)
Systemic: of, relating to, or common to a system (Brinker)
182: AirPods Requiem, Cloud 100 Infrastructure, Nvidia's AI Dominance (Liberty)
The arithmetic of high conviction portfolios (Klement)
What the 'Smart Money' Knows About China's Evergrande Crisis (WSJ)
Brandes: Dangerous Thinking: This Time Is Different (Brandes)
---
This week's Superinvestor news:
Top investors split on direction of 'tempestuous' China's markets (FT)
Why Peter Thiel is such a charismatic influencer (AFR)
Leon Cooperman: Conditions for a large market decline are not present (CNBC)
Think Different | Sam Zell (ISOE)
Berkshire shares are below Buffett's late-spring repurchase prices (CNBC)
Terry Smith Fundsmith Factsheet September 2021 (Fundsmith)
Meme stocks are a travesty of serious investing: Jeremy Grantham (CNBC)
Warren Buffett used the 'Mona Lisa' to explain why art is a terrible investment – but then compared Berkshire Hathaway to an art museum (Business Insider)
---
This week's best value Investing news:
Value Investing and Intangibles (Alpha Architect)
What if inflation is here to stay? Think value stocks (Globe & Mail)
Value stocks are coming back to life: A Q&A with Morgan Stanley's managing director (Financial Post)
Mr. Market Is Offering Us a Second Bite at Value Stocks (Bloomberg)
Rob Arnott: Did I Miss the Value Turn? (RA)
Valuing stocks: why investors should look harder at expectations (FT)
---
This week's Fear & Greed Index:
Extreme Fear.
---
This week's best investing podcasts:
TIP382: Investing Mastermind Q3 2021 (TIP)
Dispelling Myths in the Value vs. Growth Debate with GMO's Ben Inker (Excess Returns)
EP 328. Special Situations Investing: Revisiting and analyzing recent spinoffs (Focused Compounding)
Finding Value with Legendary Value Investor Richard Pzena (ValueWalk)
J Mintzmyer – Shipping Extraordinaire (Business Brew)
Confidence vs. Overconfidence | Idea Generation and Getting to "No" Quickly (Intelligent Investing)
Ep. 194 – Long-Term, Conviction Investing in Global, Small-Cap Companies (Planet MicroCap)
Episode #355: Sheel Mohnot, Better Tomorrow Ventures (Meb Faber)
Grahamian Investing: How to Reinvent and Reinvigorate Value Investing (MOI Global)
Jay Hoag – Calibrating Market Adoption (Invest Like The Best)
From MicroCap to LargeCap with Brian Bares (MicroCapClub)
Daniel Graña – Janus Henderson Investors Emerging Markets Equity (Capital Allocators)
High ROCE and Widening Moats (Capital Employed)
Perth Tolle — Investing in Freedom (Infinite Loops)
---
This week's Buffett Indicator:
Strongly Overvalued.
---
This week's best investing research:
International Hall Of Famers (AllStarCharts)
Are We at Peak Growth? (AllAboutAlpha)
US Macro shocks and style factors – Important in explaining EM currency moves (DSGMV)
Timeframe Matters For Various Market Participants (PAL)
---
This week's best investing tweet:
---
This week's best investing graphic:
Ranked: The Top 10 Richest People on the Planet (Visual Capitalist)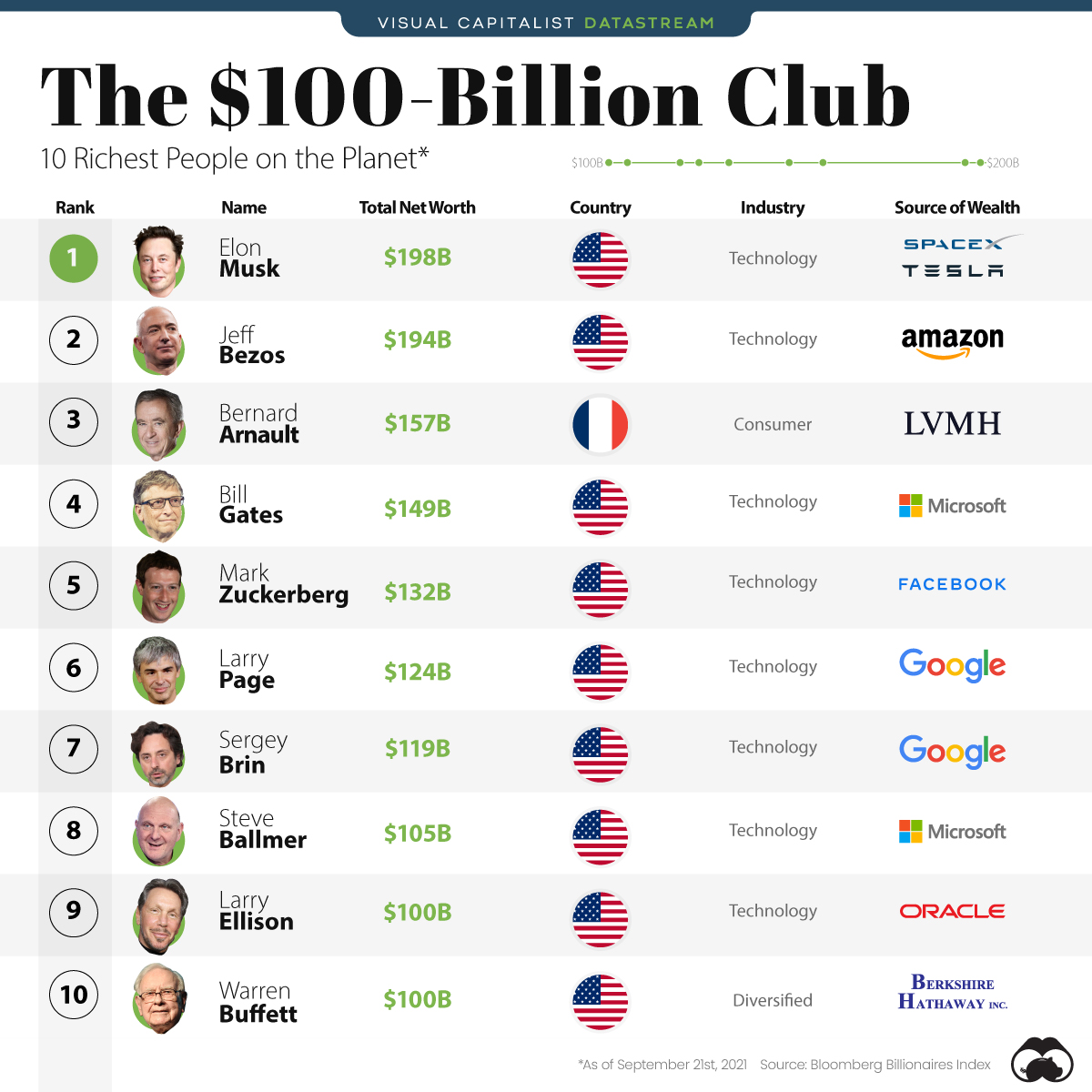 For all the latest news and podcasts, join our free newsletter here.
Don't forget to check out our FREE Large Cap 1000 – Stock Screener, here at The Acquirer's Multiple: