This week's best investing news:
A Project of One's Own (Paul Graham)
Customers Love Free Stuff … But That's Not Your Problem (Bill Gurley)
Markets Have Bought The Fed's 'Transitory' Narrative Hook, Line And Sinker (Felder)
Virtual Value Investing Q&A Speaker Series Event at Brown University with Bill Nygren (Brown)
High Quality Stocks and Inflation Resilience (Jensen)
"Yay, Environment!" (Epsilon Theory)
Warren Buffett-backed electric automaker BYD ships 100 cars to Norway (CNBC)
What to Expect (Humble Dollar)
The purse, and curse, of Tiger (Forbes)
Bill Ackman's Pershing Square confirms talks to buy 10% of Universal Music at $4 billion (CNBC)
On Oil (Verdad)
Bernstein: Investors Have Forgotten 2008 Pain (Validea)
AIC Conversations – Guy Spier (AIC)
Buying and Selling (Woodlock)
The Availability Bias: How to Overcome a Common Cognitive Distortion (Farnam)
The Rise of SPACs: IPO Disruptors or Blank Check Distortions? (Aswath Damodaran)
Li Lu's Book Recommendation List (CMQ)
Asking the wrong question on inflation (Real Returns)
Stanley Druckenmiller Gives His View (WTI)
Rates Aren't Too Low (UPFINA)
Booth and Fama on rising inflation (EB Investor)
Is Day Trading a Good Idea? (Safal Niveshak)
Rebalancing Your Way to Alpha (Barry Ritholz)
The Sad End Of Jack Ma Inc. (Forbes)
Cut the Winners and Let the Losers Run? (Novel)
Aswath Damodaran's investment strategy for a pricey market (FOX)
Robert Hagstrom on Warren Buffett: Inside the Ultimate Money Mind (MOI)
Integrated Apple and App Store Risk (Stratechery)
Three Things I Think I Think – Bitcoin, Moar Bitcoin and Inflation (PragCap)
The Big Four+ (Brian Langis)
Learning from Estée Lauder's Leonard Lauder (Investment Masters Class)
The Ultimate Superpower in Investing (Compound Advisors)
The U.S.A. Is Atypical (Brinker)
Happy Microsoft Dividend Day (DGI)
Momentum Monday – Yoots Will Be Yoots And Lot's Of Strength Behind The Silliness (Howard Lindzon)
With Dividend Growth Stocks, Cash Is King (DGS)
Fast & Furious Business Cycle (Dr Ed)
139: Crowdstrike Q1, Ackman & PSTH + UMG, E-Commerce (Liberty)
Apple's new privacy policy leaves subscription-based publishers defenseless (Petition)
---
This week's S&P vs CAPE:
35.66
---
This week's best value Investing news:
Will Value Investing Bounce Back? (Economic Times)
Combining Value and Profitability Factors: the International Evidence (Alpha Architect)
"The Value Premium is not Dead in Canada" (Ivey)
---
This week's Fear & Greed Index:
Neutral
---
This week's best investing podcasts:
Rich Pzena on the Outlook for Value Investing (Gaining Perspective)
Jack Butcher — Productizing Value (EP.50) (Infinite Loops)
Gabriel Leydon – Designing Digital Economies (Invest Like The Best)
Episode #318: Perth Tolle, Life + Liberty Indexes (Meb Faber)
320- The Best Munger Quotes – Part 3 (InvestED)
Ep. 178 – "Steak and Sizzle" Investing with Thomas Braziel (Planet MicroCap)
Jason Buck (Business Brew)
TIP352: Mastermind Q2 2021 (TIP)
Inflation is here. But for how long? (Intellectual Investor)
Aggregation of Marginal Gains | A Study of Lifetime Value Creation (Intelligent Investing)
Finding Quality Value Stocks With Joseph Piotroski's F Score Methodology (Excess Returns)
Alex Rodriguez – Business after Baseball (Capital Allocators, EP.198) (Capital Allocators)
Angus Cameron – Trade Structuring: Systematizing a Hidden Edge (S4E6) (FWM)
20VC: Why and How The Best Companies Build Economies Around Themselves (20VC)
Net Net Nano Caps on AIM (w./ Elementary Value) (Capital Employed)
---
This week's Buffett Indicator:
Strongly Overvalued
---
This week's best investing research:
Share Of Worldwide Semiconductor Market By Type (GMM)
Commodity prices long-term – The long decline is over (DSGMV)
Improving the Performance of a Momentum Strategy For S&P 500 Stocks (PAL)
Fixed-Income Allocations: Where To? (CFA)
VIX July Seasonality (MacroTourist)
What About Beta? | Learn to Play the Orchestra (All About Alpha)
Breadth Thrusts & Bread Crusts: How to Become a More Active Reader (All Star Charts)
---
This week's best investing tweet:
---
This week's best investing graphic:
The Biggest Companies in the World in 2021 (Visual Capitalist)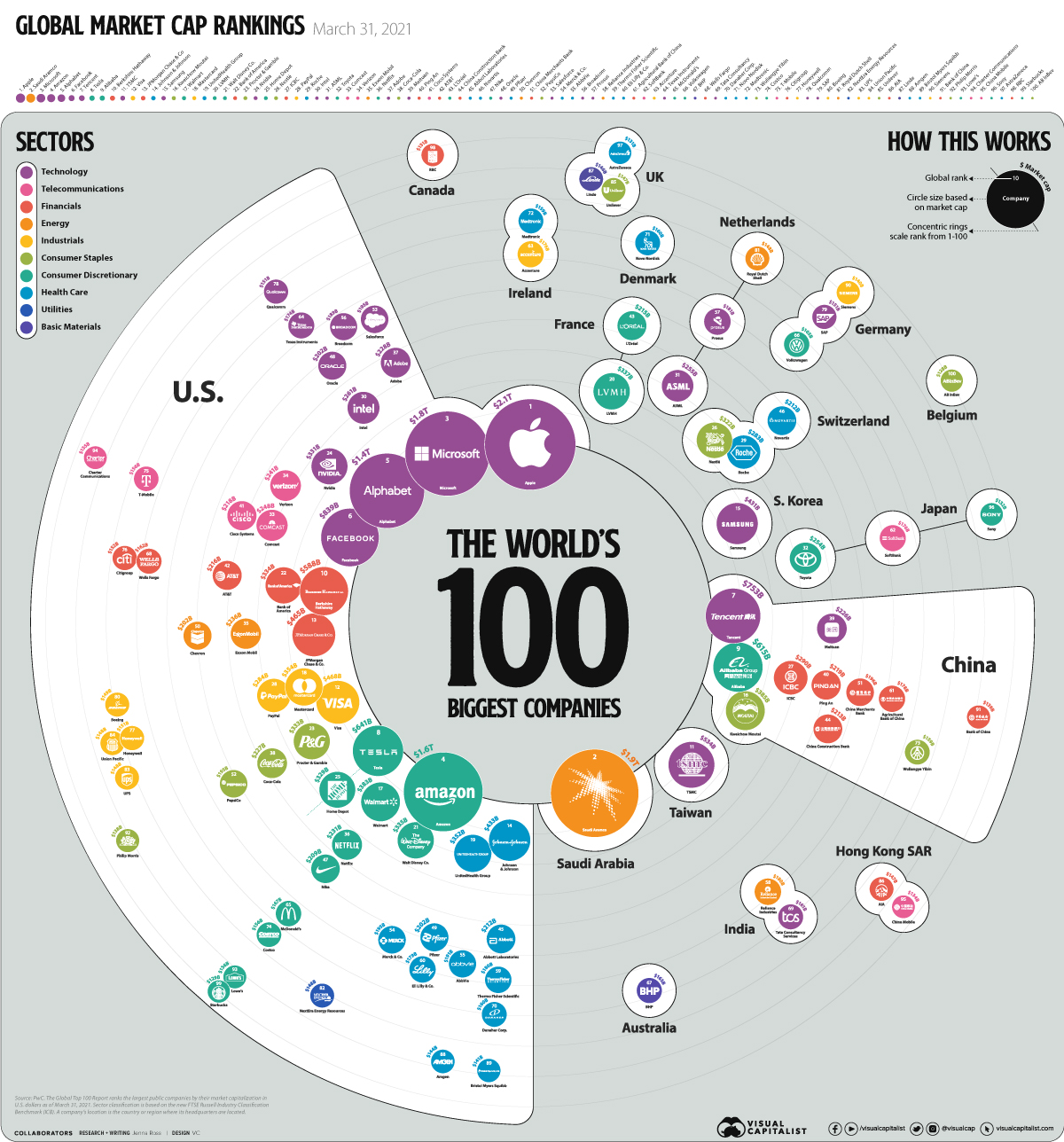 For all the latest news and podcasts, join our free newsletter here.
Don't forget to check out our FREE Large Cap 1000 – Stock Screener, here at The Acquirer's Multiple: