Here's a list of this week's best investing news:
Investing in a Bubble (Verdad)
A Confluence of Influence (Jamie Catherwood)
The Seen and Unseen–Understanding Interest Rates (csinvesting)
Terry Smith talks big tech, fraud and ESG (Investors Chronicle)
What The Boom In Fraud Says About The Current Market Environment (Felder)
A Different Game (Epsilon Theory)
Renaissance Technologies' Chairman James Simons Steps Down (Validea)
The Speculative "V" (Hussman)
Why You Should Practice Failure (Farnam Street)
When Investors Forget Fundamentals, the Market Is Broken (WSJ)
The Great Grift (Scott Galloway)
Cliff Asness – Now There's Nothing Certain But Death (AQR)
Don't Be a Sophist (Vitaliy Katsenelson)
Security Analysis Substack (VSG)
Momentum is With Value (Pzena)
Data Update 2 for 2021: The Price of Risk! (Aswath Damodaran)
Baupost's Seth Klarman compares investors to 'frogs in boiling water' (FT)
Soooo, 2020…What A Crazy Year!? (Wexboy)
The Best Investors of All Time (Chris Mayer)
Leon Cooperman sees 'euphoria' in the stock market (CNBC)
Chuck Akre – Return on Investment (Value Investor Insight)
Cliff Asness Predicts Comeback for Quant Algorithms (Bloomberg)
Cliff Asness and Ken Griffin – Research Challenges in Asset Management (AFA Panel)
Do Stocks Always Win In Longterm? (UPFINA)
My Close Encounter with a Conspiracy Theory (RV Capital)
Greenlight Capital Q42020 (Greenlight)
First Eagle Global Value Team 2020 Annual Letter (FEIM)
Stocks That Have Paid Uninterrupted Dividends Since 1895 (DGS)
The Mental Model of Dividend Growth Investing (DGI)
Founders & Management Alignment (Investment Masterclass)
Giverny Capital Q42020 (Giverny)
Happy New Year! Bubble Yet? (The Brooklyn Investor)
The secrets of successful listening (The Economist)
MicroStrategy: From B.I. to Bitcoin (Nongaap)
Your Unique Advantage for Finding Multi-Bagger Investment Opportunities (Whitney Tilson)
8 to 80 Spotlight: Netflix (1/20/21) (Compound Advisors)
Why Longer-Term Treasury Yields Are Rising (Schwab)
Intel Problems (Stratechery)
Why the Canadian Tech Scene Doesn't Work (Alex Danco)
Party Like There's No Tomorrow! (Dr Ed)
80: My Thoughts on Local vs Global Contrarians, Microsoft + GM on Self-Driving Cars, Twitter, Bumble S-1, Elastic vs Amazon, Intel's Problems, Jack Ma, SpaceX Intrigue (Liberty's Highlights)
Unit Economics Fundamentals (Saas Engineering)
As goes January… so far, so good (Brinker)
Marketplace take rates factors (Tanay)
Learning from the Death of the Afternoon Paper (The Diff)
Investment hot spots or not? (The Gist)
ESG Research: Solving the Integration Challenges (CFA Institute)
Fearful or Greedy? (Macro Tourist)
Fintech taps influencers; Walmart and Google ramp up financial services; Simple shutters, and more (Andreessen Horowitz)
---
This week's best value investing news:
What To Rethink When Investing In Both Growth And Value Funds (Forbes)
Value stocks are about to come out of their coma, says index fund powerhouse Vanguard (MarketWatch)
With Vaccines Arriving, Value Investors Try for a Comeback (NY Times)
Mohnish Pabrai Decides to Move Away From Traditional 'Value Investing' After 2020 (Yahoo)
---
This week's Fear & Greed Index is reading:
---
This week's best investing research:
Trend-Following Filters – Part 2/2 (Alpha Architect)
When Secular Trends Reverse…and Economic Time Bombs (Howard Lindzon)
Does regression analysis work for factor exposure? (EB Investor)
The New Commodities Supercycle (All Star Charts)
Strategy Based on Newtonian Fluxions (PAL)
Oh, Quality, Where Art Thou? (Factor Research)
What is DeFi? (All About Alpha)
Dispersion in CTA returns and small managers again lead with strong performance in 2020 (DSGMV)
---
This week's best investing tweet:
I'm proud of all of you. https://t.co/Imh0q7ViYt

— Tobias Carlisle (@Greenbackd) January 20, 2021
---
This week's best investing podcasts:
Rule Breaker Investing by David Gardner (MicroCap)
Trillions: Welcome to 2021 (Barry Ritholz)
#101 Jane McGonigal: The Psychology of Gaming (Knowledge Project)
Examining Modern Monetary Theory (Barron's)
Why Dividend Investing May Be Overrated (Excess Returns)
Nick Train: The Richard Hunter Interview podcast (Interactive Investor)
The Important Lesson a Quant Manager Learned in 2020 (Bloomberg)
Value vs. Growth: Thoughts on "Something of Value" Memo From Howard Marks (Focused Compounding)
Claire Cormier Thielke – The Future of Cities and Real Estate (Invest Like the Best)
300- Li Lu's Speech & Episode 300!! (InvestED)
Episode #281: Adrian Helfert, Westwood Group, "We're Fundamental Investors And Multiasset Investors That Can Look Across The Capital Spectrum" (Meb Faber)
Ep. 157 – With Poker and Investing, Know the Game Your Playing and Master Your Strategy with Annie Duke, Author of "How to Decide: Simple Tools for Making Better Choices" (Planet MicroCap)
What's Wrong With the Hedge Fund Industry? (Stansberry)
TIP332: Long-Term Investing w/ Tom Gayner (TIP)
Tyrone V Ross Jr. – A Powerful Advocate (Business Brew)
How Smaller Companies Beat Giants | Equity Research: How to Detect BS (Intelligent Investing)
Perpetual Motion Stocks (What Goes Up)
---
This week's best investing graphic:
The U.S. Share of the Global Economy Over Time (Visual Capitalist)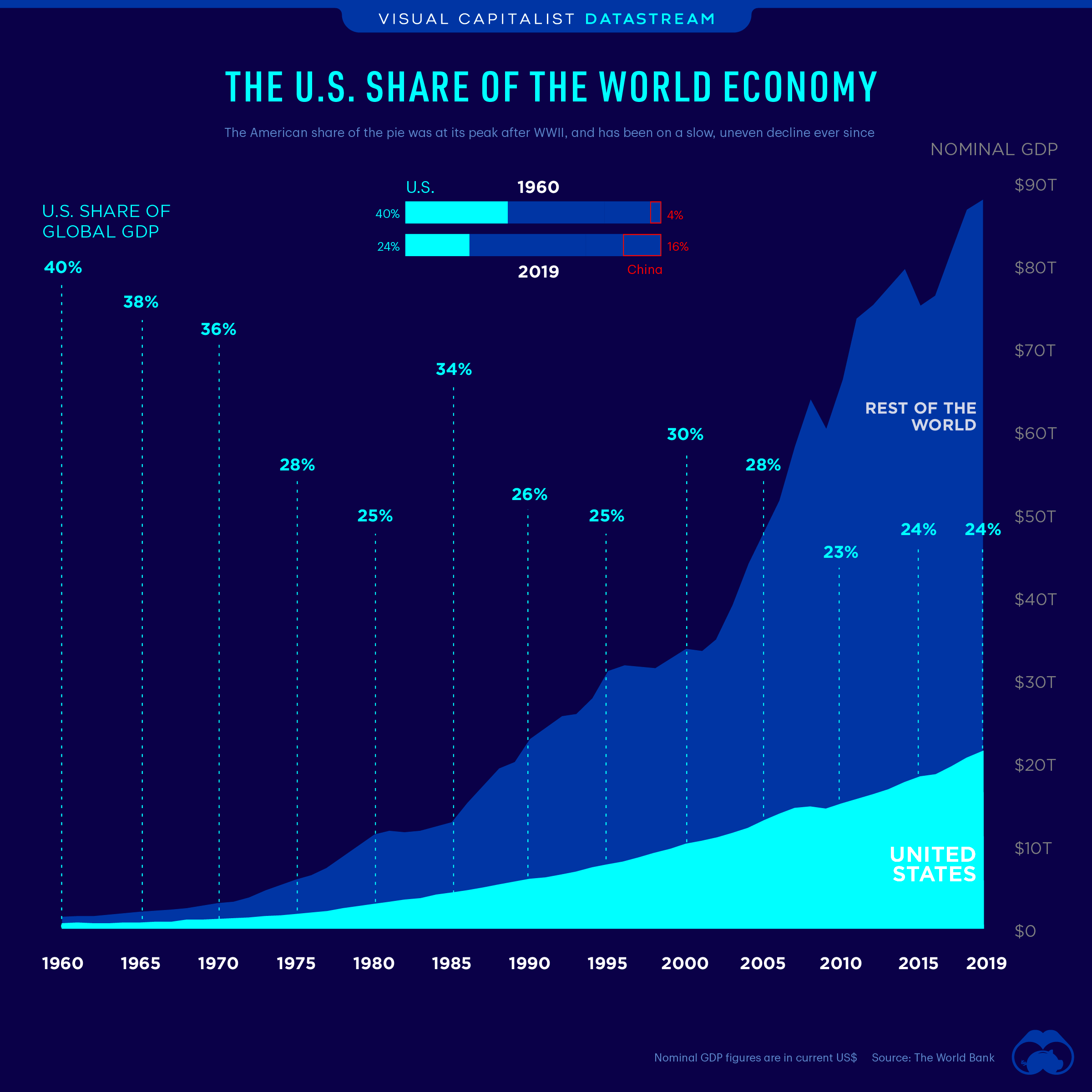 For all the latest news and podcasts, join our free newsletter here.
Don't forget to check out our FREE Large Cap 1000 – Stock Screener, here at The Acquirer's Multiple: